SCA Performance Trucks in Plattsmouth, NE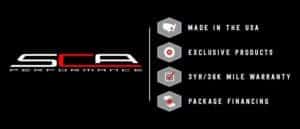 The SCA Performance Ram 1500 Benefits Drivers Who Journey Far
Since 1979, SCA Performance has been recognized as the premier Special Vehicles Manufacturer of Ford Trucks. On this 40-year journey of pursuing our Passion and perfecting our Craft, we've built over 120,000 custom vehicles from our 150,000 square foot, state-of-the-art manufacturing facility headquartered in Trussville, AL.
Venturing far into unknown lands can seem intimidating in the beginning, but once equipped with the Ram 1500, drivers experience relief. This pick-up truck is vital to have especially if drivers have a knack for driving off-road. This model is meant to get through the toughest terrain without a scratch; considering the design was built for adventure-seekers and haulers.
There are many reasons why truck drivers gain complete satisfaction as soon as they step one single foot inside of the Ram 1500 pick-up truck. Well, for one, the SCA model provides performance that surpasses all other trucks that are currently being sold.
Below, we will discuss why drivers who journey far have been raving about the newest Ram 1500 SCA performance truck. Not only does the truck help with practical responsibilities, it aides drivers who ride in every type of terrain.
The 10 Best Qualities of the SCA Performance Model
1. The design resembles power and class shaped into one highly-functioning beast
2. Plenty of technology upgrades
3. Need to tow heavy things? No problem, the SCA performance model was engineered to carry loads of weight
4. Ruggedly made for the wild
5. Aggressive and custom-made wheels that powerfully glide along any terrain
6. SCA performance speedometer calibration is placed near the odometer for perfect visibility
7. The suspension lift is 5-inches
8. 20-inch custom-made wheels built for mother nature
9. So spacious you'll never hear one complaint from anyone who enters the Ram 1500
10. A long-lasting vehicle that provides the driver with the utmost durability and handling
The Ram 1500 HD lifted truck gives all drivers luxury, strength, and power mixed into one pick-up truck.
The SCA performance version was designed with all-purpose features and is made for people who prefer a solid and technologically advanced truck.
With OEM mathematical calculations and in-depth industry analysis, the builders of this model were able to recreate a vehicle that is strategically and beautifully constructed for drivers who work and play hard.
Other Features:
The LED lighting inside of the cabin provides a stylish appeal. There are several compartments that allow for extra storage space, this way, you always have just enough room for everything important. The side-steps help enter and exit the Ram 1500; these are adjustable or removable.
The auto experts at Gregg Young Plattsmouth will be able to help with special financing options that help every driver obtain the truck they've always wanted. Contact a specialist in Plattsmouth and let the helpful staff explain everything from parts to design logistics; you are bound to learn a thing or two about the SCA performance Ram 1500.
Contact an expert associate at Gregg Young Plattsmouth and you will be given a plethora of knowledge that may tempt you to drive this superior-sized truck that is useful for those who like to journey on the open road. To learn more about the newest and most powerful truck on the market.